Seller notes
Note: Bawa kelengkapan selama masa garansi berlaku.
Product description SAMSUNG LED Monitor Curved 24 Inch C24F390FHE
SAMSUNG LED Monitor Curved 24 Inch C24F390FHE, the most immersive and comfort viewing experience with deeper curved screen. Vibrant and superior picture quality with 3000:1 contrast ratio.

Size: 24 Inch
Resolution: 1920 x 1080
Aspect ratio: 16:9
Brightness: 200cd/m2
Color support: 16.7M
Layar Lengkung 1800R dan Eye Saver untuk Kenyamanan Mata
Monitor layar lengkung Samsung CF390 mendefinisikan ulang bagaimana sebuah gambar tersaji di pikiran Anda. Dengan lengkung layar 1800R (jari-jari 1800mm), Monitor dapat menciptakan sudut pandang yang lebih luas, persepsi mendalam, dan meminimalkan gangguan cahaya di tiap sisi layar. Kelengkungan layar 1800R memungkinkan mata Anda dapat melacak pergerakan objek dengan lancar di seluruh tampilan layar dengan tetap mempertahankan jarak pandang konsisten. Layar lengkung terbukti mengurangi ketegangan mata dibanding melihat monitor datar. Mode Eye Saver mampu mengurangi emisi sinar biru yang dapat merusak retina mata. Dengan fitur ini, kelelahan mata dapat dikurangi secara efektif. Teknologi Flicker Free meminimalkan gangguan Flicker untuk kualitas gambar lebih stabil.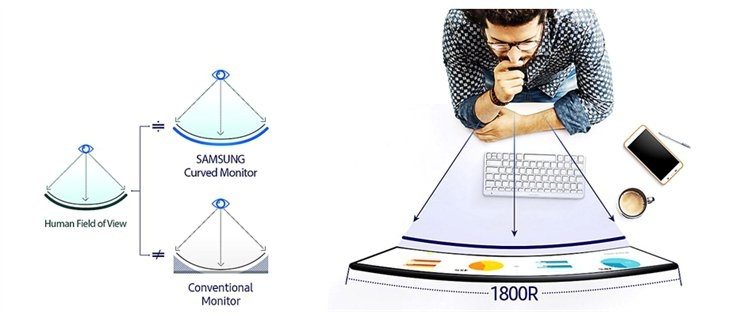 Panel VA dengan Rasio Kontras 3000:1
Teknologi panel VA (Vertical Alignment) milik Samsung dapat menghasilkan rasio kontras hingga 3000:1. Warna hitam akan terlihat lebih pekat dan putih jadi lebih cemerlang. Komposisi warna pun terlihat lebih kaya sehingga gambar terlihat lebih hidup. Teknologi layar melengkung pada Monitor Samsung CF390 dapat meminimalkan kebocoran cahaya dari tepi layar. Dengan begitu, Anda bisa memastikan kepekatan gambar yang seragam di seluruh rentang layar seluas 23.6 Inch.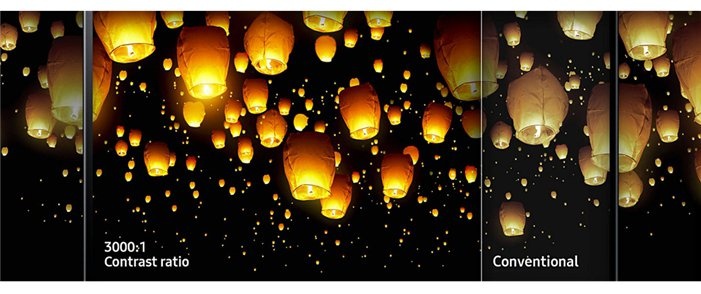 Profil Ramping dan Melengkung Penuh Gaya
Panel lengkung super tipis dengan ketebalan 11.9mm.
Stand melingkar yang ringkas melengkapi kelengkungan layar yang elegan.


Teknologi Eco-Saving: Mengurangi Konsumsi Energi Listrik
Pengaturan penghemat energi dengan mengatur kecerahan layar secara otomatis membantu Anda untuk menghemat pengeluaran. Teknologi Eco-Saving dari Samsung dapat menyesuaikan kecerahan layar secara alami berdasarkan Luminescence kegelapan layar. Teknologi tersebut bisa menghemat konsumsi listrik hingga 10%. Pengaturan kecerahan Dual Manual memungkinkan kecerahan layar dapat diatur secara manual hingga 25% atau maksimal 50%.

Additional information
| | |
| --- | --- |
| Minimum purchase | 1 |
| UOM | Unit |
| Time for good supply | - |
| SKU | MONLEDSAM03 |
| | |
| --- | --- |
| Shipping weight | 5 Kilogram |
| Length | 61 Centimeter |
| Width | 14 Centimeter |
| Height | 41 Centimeter |